STEVEN PEARSON

We are all subject to a flood of information on a daily, if not hourly, basis via a variety of technological means: emails, text messages, Facebook, Twitter, online newspapers, countless websites, as well as television and radio. With such a wide array of information from so many sources, one is obligated to discern what is true, verifiable, and good; and what is false, speculative, inflammatory, and bad.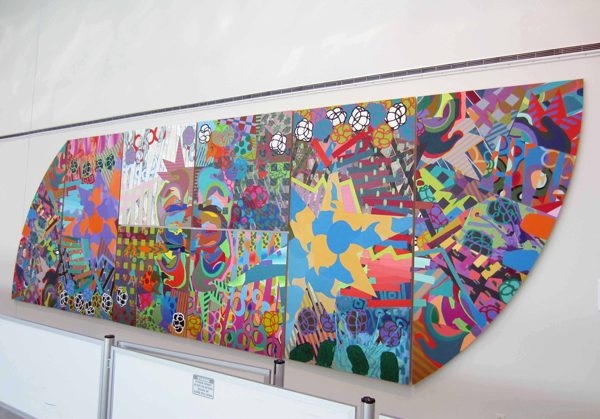 The Whole is Greater Than, 2011, Acrylic and silkscreen on panel, 96"x 293"
I've become interested in how our ability to receive and assimilate a myriad of information on a constant basis can be reflected in a 2-dimensional format. In my paintings, I employ complex compositions and an autobiographical visual language consisting of codes and symbols. Each painting possesses a layered history: As new statements are juxtaposed next to or on top of earlier ones, the paintings begin to suggest the manner in which we store memories or assimilate and make sense of information. Some shapes are strong and vivid, while others become broken and incoherent, only suggested by the pentimenti left as a visual reminder of their previous existence.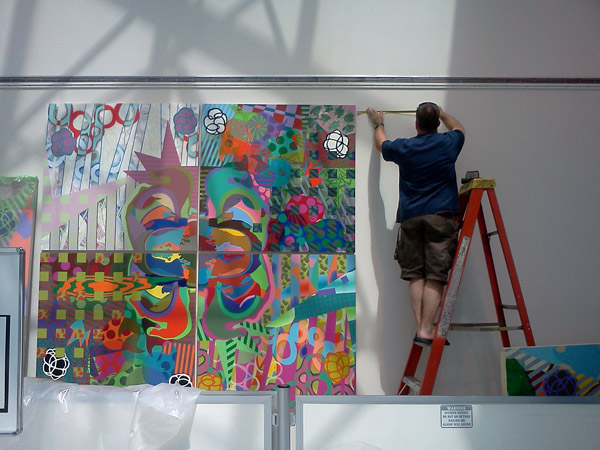 Installation at BWI Thurgood Marshall Airport
---
Steven's Pearson work is now on view at Baltimore Washington International Thurgood Marshall Airport (BWI), International Terminal (Councourse E) as part of Feats of Monumentality until January, 2012.